NABP requires an official transcript from 2020 candidates to verify the conferred graduation date. All 2020 candidates must have their school submit an official transcript to transcripts@nabp.pharmacy. Transcripts will continue to be processed through October 2020.
Transcripts are not required for score release. Score Results processing has not changed.
For more information about checking the status of your transcript, refer to this page or the NAPLEX and MPJE section on the Help page.
The NAPLEX®, or North American Pharmacist Licensure Examination®, measures a candidate's knowledge of the practice of pharmacy. It is just one component of the licensure process and is used by the boards of pharmacy as part of their assessment of a candidate's competence to practice as a pharmacist.
Preparing to Apply and Sit For the NAPLEX
Before you get started, download the NAPLEX/MPJE Application Bulletin. It contains everything you need to know about the exam, such as:
The two-step process
Testing appointment instructions
What you'll see on the exam
How to get your score report
Be sure to download the Application Bulletin only from this website to get the most accurate, updated information about the NAPLEX. NABP is aware of some websites that are posting fake, outdated, or incorrect application bulletins.
Apply for the NAPLEX
Ready to take the test? To start the two-step process, log into your NABP e-Profile.
Step 1: Apply for the Exam
It is during this step that the board of pharmacy in the state for which you are seeking licensure will determine your eligibility to take the NAPLEX. They review the information you provided in your e-Profile and your application. Before you apply, check with your board of pharmacy to make sure you meet their requirements.
When you submit your application to NABP you will pay a $100 non-refundable application fee. There is an additional $85 non-refundable fee for candidates who select Colorado, Kentucky, Maine, Michigan, Nebraska, Oregon, Utah, and/or Rhode Island as their primary state of eligibility as NABP confirms eligibility to test for those jurisdictions.
Once the board determines that you are eligible, you will receive an email instructing you to purchase the exam.
Step 2: Purchasing the Exam
When you are ready to purchase the exam so that you can schedule it at the test center, log in to your NABP e-Profile again. Go to Exam Services to purchase your exam and pay the appropriate fee. If you plan to seek licensure in multiple states, utilize the Score Transfer option.
Don't forget! The name in your e-Profile must match the printed name on both the primary and secondary forms of ID that you will bring to the test center. If the name in your e-Profile does not match your IDs, you will be turned away on the day of the test. See the Important Test Day Information section below or the NAPLEX/MPJE Application Bulletin for more information.
Armed Forces Discount
NABP offers discounts for members of the armed forces and their spouses. Active members, reserves, and veterans of the armed forces will receive a 100% discount on the NAPLEX application and examination fees, and their spouses will receive a 50% discount on the fees. Fees for repeat attempts and resitting fees will not be reimbursed. All submissions are made via your e-Profile, not through email correspondence. You must apply for the discount prior to purchasing the approved services. For more details on obtaining an armed forces discount, see the FAQ section.
Need ADA Accommodations?
If you need test-day accommodations under the Americans with Disabilities Act, instructions and a link to the form can be found in the Bulletin. The form is also available for download in the online application.
Schedule Your Exam Appointment
Once your board of pharmacy determines your eligibility to take the examination and NABP is notified, Pearson VUE (NABP's testing vendor) will send you an Authorization to Test (ATT). The ATT includes the dates during which you are eligible to take the examination as well as an authorization number. You may use that ATT to schedule your examination with Pearson VUE. Please note that you cannot schedule your exam unless you have an ATT.
When your ATT arrives, make sure that the name printed on it matches your primary and secondary forms of ID. If they do not match, you will not be admitted into the testing center. Your name will be printed on your ATT exactly as it appears in your NABP e-Profile. Please see the NAPLEX/MPJE Application Bulletin for more information.
Review the NAPLEX Competency Statements
The NAPLEX Competency Statements offer important information about the knowledge, judgment, and skills you are expected to demonstrate as an entry-level pharmacist. A strong understanding of the Blueprint will aid in your preparation to take the examination.
The NAPLEX Blueprint has been updated for exams administered starting January 1, 2021.
Prepare With the Pre-NAPLEX
To get a feel for what is on the exam, consider taking the Pre-NAPLEX. The Pre-NAPLEX simulates the NAPLEX testing experience as you field questions similar to those you will face on the day of the test. Available online, the Pre-NAPLEX is accessible anywhere you have an internet connection.
Important Test Day Information
Please be aware that testing sites are following social distancing guidelines in response to COVID-19, and many locations are requiring that face masks be worn.
The following are not accepted forms of identification: Canadian IDs of any kind and expired US identification of any kind.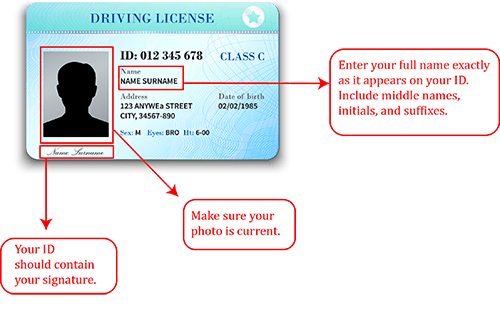 Bring two forms of ID: One of these IDs must be a:

US passport
US driver's license
US state ID
US temporary driver's license
US military ID
US passport card
Valid debit/credit/ATM cards
The printed name on both your primary and secondary forms of ID must match the name that appears on your ATT letter. If you do not have the correct IDs with you on the day of your test, you will not be able to test. Your name will be printed on your ATT exactly as it appears in your NABP e-Profile. See the NAPLEX/MPJE Application Bulletin for more information.

Arrive 30 minutes early: This will give you time to complete check-in procedures. You may be required to forfeit your appointment if you do not allow enough time.
Read the NAPLEX/MPJE Application Bulletin for more information about procedures and restrictions.
View this video containing tips for a successful exam day:
View NABP's Tips for Examination Preparation in a new tab.
Report Exam Irregularities
Start your pharmacy career off on the right foot and follow all examination rules. If you have witnessed such misconduct or other irregularities as described in the Bulletin, please report it to NABP immediately.
The video below provides an overview of the consequences of exam misconduct. Please read the NAPLEX/MPJE Application Bulletin for detailed information about exam misconduct.
View NABP Exam Misconduct: What Happens if You Break the Rules? in a new tab.
Missed Appointments and Rescheduling
The NAPLEX/MPJE Application Bulletin contains detailed information on what to do if you miss your examination appointment and how to reschedule an appointment. Please note that you will be charged fees for rescheduling and missed appointments. Our eligibility and resit request policies have been updated and will be reflected in the new Bulletin that will be published in the first week of February 2019. Read more about the policy updates here.
Exam Limits: 5 Attempts
You are allowed a maximum of 5 attempts to pass the NAPLEX. After a failed attempt, you must wait 45 days to next attempt the NAPLEX. Some exceptions may apply, as NABP member boards retain the authority to determine the number of attempts per candidate in their jurisdiction. Contact NABP Customer Engagement for more information.