This column was prepared by the Institute for Safe Medication Practices (ISMP), an ECRI affiliate.
A specialty pharmacy reported concerns with look-alike packaging with the many presentations of Humira® (adalimumab), which is used for nine different autoimmune indications in both pediatric and adult populations. The manufacturer produces 20 different prefilled syringe and pen carton configurations. There are 11 different starter packs based on the patient population (eg, pediatric, adult), indication, dose, and number of doses contained within each pack. The starter packs are designed to provide the larger initial dose required for some indications. Also, certain configurations are available in citrate-free formulations to reduce injection site pain.
Many Humira products share product and packaging similarities that can increase the risk of medication errors. For example, multiple products are available in the same concentration, some with the same strength (eg, 40 mg/0.8 mL, 40 mg/0.4 mL). Also, many of the product cartons look similar with either a blue or maroon color scheme. Humira products are stored in the refrigerator. As a result, the different formulations, concentrations, and package configurations often end up stored near one another (Figure 1).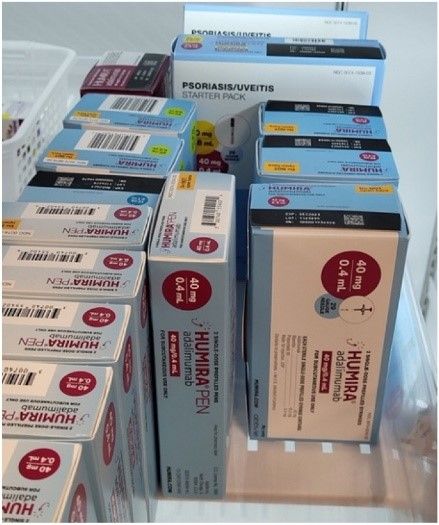 To prevent product mix-ups, scan each carton during production instead of scanning one carton multiple times. Ideally, pharmacy computer systems should require each product's barcode to be scanned. During product verification, the computer system should also alert the pharmacist if barcode scanning was bypassed during production.
If space permits, clearly label and utilize separate storage locations or bins for the different Humira presentations. Consider organizing and separating the different Humira products by age groups and indications. Explore ways to differentiate the products (eg, apply auxiliary labels or circle the dosage form and/or indication) when they are received from the supplier. Educate staff on the different Humira products and the potential to mix them up.
Also, please note that multiple adalimumab biosimilars are expected to become available in 2023. This means that, because of different payor formularies and requirements, pharmacies may need to store even more adalimumab products. These products have overlapping strengths and concentrations as well as nonproprietary names that only differ by adding the biosimilar suffix. As a result, the opportunity for mix-ups is likely to increase.
In anticipation of these biosimilar medications coming to market, the Institute for Safe Medication Practices (ISMP) is working to develop risk-reduction strategies to share with their readers and members. ISMP is interested in learning what steps pharmacies are planning to take to reduce the risk of errors with biosimilars. Share your thoughts and strategies by submitting a medication safety comment or question at www.ismp.org/contact.