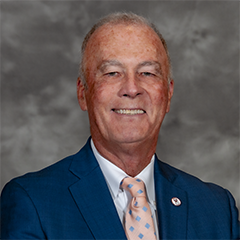 My first few months as NABP president have flown by, and I expect my year as president will feel like it has passed in the blink of an eye. In comparison, it feels to me like this pandemic has lasted much longer than two years. As if two years weren't enough! I think that feeling is, in part, due to how much this pandemic has changed the health care landscape, including pharmacy practice and regulation.
State and federal governments relaxed certain requirements and restrictions related to pharmacist and pharmacy technician licensing and scope of practice. Altogether, these regulatory changes have had a positive impact on patient health and safety. Many pharmacists can now administer diagnostic tests and vaccines, as well as dispense treatments for coronavirus disease 2019 (COVID-19). Telehealth capabilities were also expanded, allowing patients in rural or underserved communities to access pharmacist care. The conclusion seems clear: when pharmacists are enabled to work to the full extent of their education and training, and to utilize the latest technology, patients benefit.
To that end, in May, during the 118th NABP Annual Meeting, I announced that my presidential initiative is to facilitate a new pharmacy practice model that promotes and enhances patient safety. It will begin with a comprehensive review of the current pharmacy regulatory environment, taking into account pharmacy education and other external factors that impact patient safety.
The review will be focused in three key areas:
Barriers in existing statutes or regulations that limit patient access to medication and care;
Opportunities for increasing patient safety by enabling pharmacists to practice at the top of their education and training; and
External factors fostering unsafe working environments when delivering patient care.
Task forces and/or work groups will be used to conduct the reviews, with the ultimate goal of developing a set of recommendations that can be implemented and communicated by the boards of pharmacy and other stakeholders.
The initiative builds on the efforts of the NABP members and stakeholders who served on the 2021-2022 task forces that explored these issues, including:
As a result of the work of these groups, NABP has already taken several actions, including signing onto the American Pharmacists Association's Pharmacist's Fundamental Responsibilities and Rights document; calling for certain COVID-19 waivers to be extended in states where enacted; and calling for collaboration with relevant stakeholders.
In September and October, I will hold additional task forces and work groups to further implement my presidential initiative. Updates will be posted on the NABP website and other communications.
I read somewhere that the most dangerous phrase in the English language is "we've always done it this way." I certainly think there is a great deal of truth in that. We will need to review and update regulations that don't address or enhance patient safety in today's environment or provide what patients now expect from their pharmacist post-pandemic. I also saw a quote from a great philosopher, Winnie the Pooh – "I always get to where I'm going by walking away from where I've been." We will need to continue to walk away from regulation that is no longer applicable to an evolving practice in order to get to a place that is protective of patient safety and safe for pharmacists and technicians, as well. It's only with your collective input that we will be able to walk to where we're going. Learn more about my initiative.