The Convenient Way to Receive All State Newsletters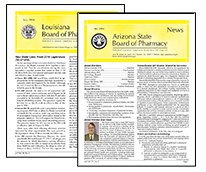 Published on a quarterly basis, the State Newsletters provide pharmacists in over 30 US states and jurisdictions with vital information about their state's pharmacy laws and board of pharmacy regulations. Newsletters are available as free downloads in PDF format by visiting the contact page for each participating board of pharmacy.
Many boards offer a free email alert to notify licensees/subscribers when a new newsletter is available. To receive email alerts, complete the form below
The State Newsletter Program was created to promote compliance within the practice of pharmacy and is part of the NABP Foundation, which was created by NABP to support the Association's educational programs and research and development projects.