MPJE Test Day Information
Before test day, make sure to read the policies and procedures outlined in the Candidate Application Bulletin to avoid being turned away from the test center. A few of the policies and procedures are also outlined below.
Arrive Early and Bring ID
Arrive at least 30 minutes before your scheduled appointment time to allow for check-in procedures. You will be required to present a photo ID or you will not be admitted to the testing center:
A photo ID that includes your signature
The printed name on your ID must exactly match the name as it appears on your ATT letter and NABP e-Profile; this includes first name, middle name, last name, and suffix. Some flexibility is allowed for middle names; read the Name Matching Requirements section of the Bulletin for more information.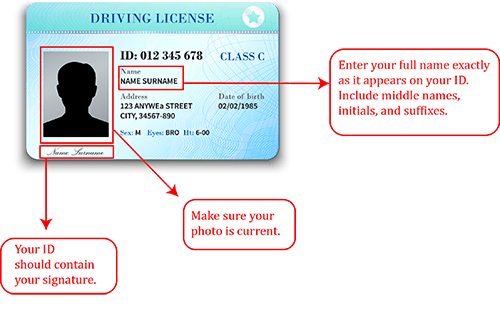 Acceptable Forms of ID
To be admitted to the testing center, you must present 1 form of ID as listed below. Your ID must be an actual US or Canadian government-issued ID (not a copy), current (not expired), valid, and contain a recent, recognizable photograph and your signature.
Only Acceptable Forms of ID:
US or Canadian passport
US or Canadian driver's license (including those that state "Not for Federal Identification Use")
Secretary of State-issued US state ID
US or Canadian temporary ID (see requirements in bulletin)
US or Canadian military ID
Expired identification are not valid forms of ID. Refer to the Bulletin for a list of other unacceptable forms of ID.
Follow Security and Safety Procedures
All candidates will be required to provide a digital signature and have a digital photograph taken prior to being admitted to the testing room. Additional security procedures can be found in the Taking Your Exams section of the Bulletin.
Testing sites are following social distancing guidelines in response to COVID-19, and many locations are requiring that face masks be worn.
Exam Misconduct
Follow all examination rules. If you have witnessed misconduct or other irregularities as described in the Bulletin, report it immediately.